Team description paper
Team description paper for Robot Club Toulon team : download here
5 recent publications
International Conference Paper – 2023 : Ultra-Fast Lidar Scene Analysis Using Convolutional Neural Network. H. Moussa, V. Gies, T. Soriano – Lecture Notes in Mechanical Engineering book series (LNME) – LNAI 13561, pp. 1–12, May 2023
Article – 2020 : Optimisation of Energy Transfer in Reluctance Coil Guns: Application to Soccer Ball Launchers –  V. Gies, T. Soriano, S. Marzetti, V. Barchasz, H. Barthelemy, H. Glotin, V. Hugel – Applied Sciences 10(9) – April 2020
DOI: 10.3390/app10093137

Article – 2019 : Modeling and Optimization of an Indirect Coil Gun for Launching Non-Magnetic Projectiles. V. Gies, T. Soriano. Actuators 2019, 8, 39.
International Conference paper – 2019 : Modelling and Optimisation of a RoboCup MSL Coilgun. Gies V., Soriano T., Albert C., Prouteau N. (2019)  In: Chalup S., Niemueller T., Suthakorn J., Williams MA. (eds) RoboCup 2019: Robot World Cup XXIII. RoboCup 2019. Lecture Notes in Computer Science, vol 11531. Springer, Cham
International Conference Paper – 2020 : Mechatronics Iterative Design for Robots Multi-agent Integration. T. Soriano, V. Gies, A. H. Pham & N. V. Hien – Lecture Notes in Mechanical Engineering book series (LNME) – pp 57–66 – 31 May 2020
DOI: 10.1007/978-3-030-46729-6_6
Contributions to the league
Member of the Executive committee :  Valentin Gies (2022-present) 
Member of the Organisation committee : Thierry Soriano (2022-present)
Member of the Technical committee :  Valentin Gies (2021-2022) 
Member of the Organisation committee :  Valentin Gies (2019-2021) 
Mechanical description
Mechanical description can be downloaded here 
Electrical description
Functional description (Software Flow Charts)
Click on the image to open it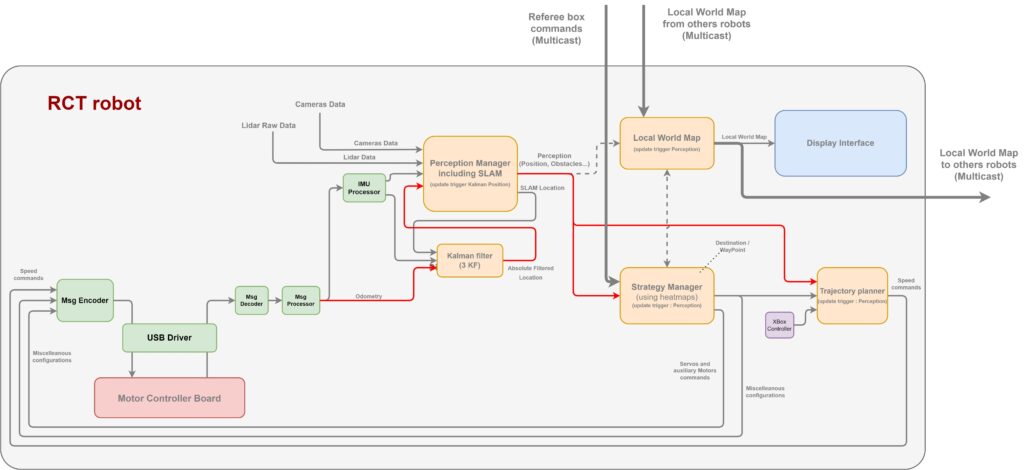 Size and Weight of the robots :
Length : 46cm
Width : 49cm
Height : 59cm
Weight : 35kg
Profile :
Robot Club Toulon is a french team participating to the RoboCup in Middle Size League. Coming from Toulon University in the south of France, this team considers RoboCup MSL as an excellent challenge for developping innovating hardware and algorithms in cooperative robotics and artificial intelligence. Even if it is a recent team in the MSL, its goal is to make a team able to play with humans in safe conditions as soon as possible.
Most research topics :
Electromagnetics, Sensor Fusion, Artificial Intelligence, Dynamic control, Cooperative Robotics.